Disco

Latin

Standard

Tango


Argentino

Modern


Dances

Salsa


Dance&Go

Video Dance

Lessons




Program "AniDance.Exe"
Download / Registration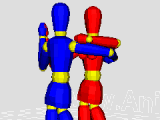 The Windows™-Program

"AniDance.Exe"

shows all dance videos that are contained on the webpages of

Animation & Dance

. After installing the program on your computer, you can look at the basic steps of all dances.




NEW:

Download already in the Basic Version


all dance videos of

Animation & Dance

to your computer



NEW:

In the Mobile Edition you get all dance videos for MP4-Player,


Mobile Phone, Sony™ PlayStation™, Apple iPod™ and iPhone™



"AniDance.Exe"

is Shareware and may be tested free of charge. In order to play all dancing videos, you must register the program.





Registration



If you register

"AniDance.Exe"

you can play all available dance videos. By paying the registration fee via PayPal you will receive your personal Registration-No. within 2 working-days by Email. Moreover you can send the money via bank transfer.


Registration of


"AniDance.Exe"


(Basic Version)

29,00 €

Registration of


"AniDance.Exe"


(Mobile Edition)

39,00 €

Upgrade
from Basic Version
to Mobile Edition

10,00 €
All prices incl. VAT.





Actual Content


Today

"AniDance.Exe"

contains the following

120 videos

:
Class
Dance
Dancing Steps
Disco
Blues
Pendulum & Promenade, Lady's Turn
Foxtrot
Basic Step, Natural Turn, Reverse Turn, Forward Lock Step
Disco Fox
Basic Step, Lady's Turn to left, Change Hands / Places, Change Places (Double Turn), Roller Turn, Butterfly, Shoulder Reacher, He Goes / She Goes, Tuck In / Throw Out
Boogie
Basic Step
Latin
Rumba
Basic Step, Spot Turn, Promenade, Hand to Hand, Square, Fan & Alemana, Fan & Hockey Stick, Follower, Aida or Fallaway, Rope Spinning, Fan & Fencing Line, Turkish Towel
Cha-Cha-Cha
Basic Step, Spot Turn, Promenade, Hand to Hand, Square, Fan & Alemana, Fan & Hockey Stick, Three CCC Forward (Street), Cha-Cha Walks & Hip Twist, Follower, Aida & Cuban Break
Samba
Basic Step, Whisk, Promenade & Lady's Turn, Argentine Kicks, Kick Ball Change, Stationary Samba Walks, Shadow Bota Fogos, Travelling Volta, Bota Fogo + Maypole Volta
Paso Doble
Appell-Attack, Promenade, Promenade & Lady's Turn, Separation
Jive
Basic Step, Lady's Turn, Change Hands / Places, Stop and Go, American Spin, Toe Heel Swivel
Standard
Slow Waltz
Basic Step, Natural Turn, Reverse Turn, Natural Spin Turn, Chassé
Viennese Waltz
Pendulum, Natural Turn, Reverse Turn, Outside Promenade
Tango
Basic Step, Promenade, Open Reverse Turn, Four Step, Open Promenade + Swivel, Promenade Link + Reverse Turn
Quickstep
Basic Step, Forward Lock Step, Natural Turn, Natural Spin Turn, Scoop, Tipple Chasse, Chasse Reverse Turn, Quick Open Reverse, Step Hop + Chasse, V6, Four Quick Run
Slowfox
Feather-/Three Step
Tango Argentino
Tango
Argentino
Paso Basico, Salida, Cunita, Ocho Adelante, Ocho Atras, Parada, Sanguichito, Sacada, Castigada, Boleo, Giro
Tango Vals
Paso Basico
Milonga
Paso Basico
Modern Dances
Charleston
Side Step
Lambada
Basic Step
Bossa Nova
Basic Step
Polka
Basic Step
Rheinländer
Basic Step
Rock'n'Roll
Basic Step, Roller Turn, Change Hands / Places
Swing
Basic Step, Underarm Turn, Inside Turn, Backhand Change, Points and Kicks, Sweetheart, American Spin, Sliding Doors, Double Spin, Sailor Shuffle
Twist
Basic Step
Salsa
Mambo
Basic Step
Salsa
Basic Step
Merengue
Basic Step





Demands to your system



- Intel Pentium™ with at least 300 MHz
- 10 MB available disk storage
- Mouse or Trackball
- Microsoft™ Windows™ 9x, ME, NT, 2000, XP, Vista
- For registration you need Internet access




Shareware License Contract



The Program

"AniDance.Exe"

may be used free of charge for acceptance tests. If you like to use the full functional scope of the program, you have to register by purchasing a user license.



Registered Full Version


A single user license can be used by a single person on one or more computers. Alternatively the software can be installed on a single computer and used at different times by different persons. Only one of these variants is allowed. If different persons work with the software on different computers, a user license is necessary for each computer the software is installed or can be used. The software may neither be rented nor lent.
By registration of the program you explain your agreement with this License Contract and abandon the return possibility because of the possibility to test the software before purchasing it. After paying the software via PayPal, you receive a Registration-No. of the author with which you can transform the shareware version into a registered full version.
The transmission of the registration data is prohibited. You have the obligation to store the registration data in order to enter it again (e.g. in case of new installation or crash of the computer). No obligation exists for the author to send the once sent data again. If you should not receive the registration data within 7 days (e.g. because of missing or incorrect statement of the Email-address, technical or other problems), you should inform the author.



Guarantee Restrictions


The software and its documentation will be made available as is. Because false functions never can be excluded also in tested software because of the multitude of different computer configurations, the author receives no liability at all for any sequence damage, that arise through direct or indirect use of the software or the documentation. Unrestricted excluded is the liability above all for damages out of escaped profit, business interruptions, loss of information and data and damages at other software, even if the author should be aware of it. Exclusively the user is liable for the sequences of the use of this software.



Transmission


The program may be transmitted only unregistered, together with all accompanying files and in unchanged condition. Therefore, please transmit the package only in form of the EXE-file offered for download. Publications on CD-ROM within shareware collections and periodicals are allowed. Publications as Bookware are allowed only with approval of the author. Manipulation, decompilation and disassembling of the software and the included files, transmission of user name and Registration-No. as well as the development and transmission of software for password generation is punished, will be reported by the author and claimed for compensation.



Miscellaneous


In offence against these conditions, the author is entitled to withdraw the utilization license from the user. All related product names and registered trademarks are acknowledged with this as a property of its proprietors, independently of whether they are marked as such or not.

The right of the Federal Republic of Germany will be applicable.